Outcast Cowboys Exclusive
What can we expect from Outcast Cowboys?
It isn't your usual cowboy story of love on a ranch. You can expect some pretty gritty scenes where Ross remembers his past when he was an undercover policeman. He had a lot to deal with, and while pretending to be a drug runner, he got himself into a bit of hot water. Joe, on the other hand, has a family that is far from average and they have many skeletons in their closets. Ross, being a former policeman, realizes something is amiss, and of course, the truth starts coming out…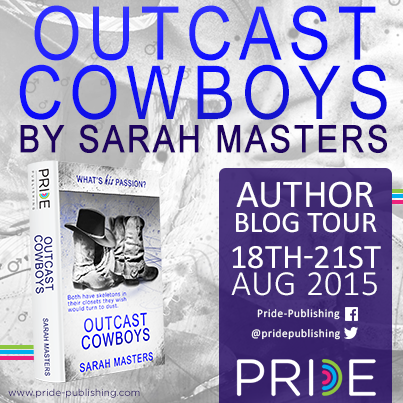 What drew you to write for the What's his Passion? series?
I wanted to explore passion but not in the sexy sense. This imprint gave me the ideal opportunity. My characters have a different kind of passion—to just live a "normal" life, but first they have to deal with pasts that aren't "normal".
Ross chooses to reinvent himself by moving from London to America. Did you enjoy writing about two very different places in this story?
Yes, I love writing about London and missed it while writing the beginning of Outcast Cowboys, which is why the flashbacks came into it. Writing about a fictional Texas town was new for me and I really liked the remoteness, so each location was enjoyable to explore.
Ross and Joe both have difficult pasts – is it important to you to give your characters obstacles to overcome?
Yes. The harder the past, the more they have to try to move past it. I tend to have characters with pasts that aren't your usual—they are people who have had tragedies, really terrible things to deal with, which makes their happy ending all the sweeter. I want readers to see how much my characters deserve better.
Why did you choose horses to be the passion for this story?
I usually include my phobias in my books. I use them as a way to try to get over them or to at least tolerate thinking about them. I've always been afraid of horses, so with Outcast Cowboys I wanted to get over that fear. Sadly, it didn't work, and I still can't look at a horse without shuddering or wanting to run away.
What do you prefer writing, series or standalones?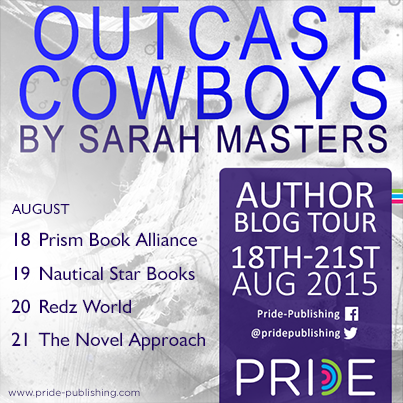 I don't mind either. Whatever the plot dictates. If I have more to say after a first book, I'll write a series.
What can we expect from you next with Pride Publishing?
Voices 8 is currently being written, the last novel in that series, and I have plans for a spin-off series about Oliver and Langham, but shorter stories, maybe novellas. I have some free reads swirling around in my head, plus I love the sweet romance option, so I'd like to write some more of those too. I have one with Pride already called Trust. I have a short story in the Aim High anthology, so it's all go on the Sarah Masters front!
Like the sound of Outcast Cowboys? Find out more by visiting Sarah's blog tour!