Jaime Samms talks about change
Posted by Holly Gunner on 18th August 2015
Jaime Samms talks to us about dealing with change and how that affected The Dreaming series.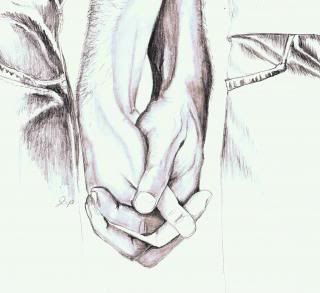 The world is a funny place. Just when you think you've got it all figured out, something happens and you see a whole other side of it. Things that once made sense suddenly are as alien and confusing as another planet. Or you're looking at things like you're seeing it from inside someone else's head. When everything in life turns upside down. It can be hard to hold on.
It helps if you have a person at your side you can count on to remain right side up for you. Someone to lend perspective and remind you that life is worth keeping on. I know for me, it's always good to reach out and find my husband's hand there to hold when I feel like crawling under a rock, or one of my kids there to care about when I don't feel like doing anything at all.
In mine and Sarah Master's newest release, Tools of Change, it is important for my characters to have something to tie them to the earth. When he first started Dreaming, Barry had Tag to keep him grounded, but being the rock is hard, and eventually, Tag had to let him go. They had a hard time finding one another again, but they did. Eventually. Now it's Jase's turn to try and make sense of a world overrun by dreams he doesn't understand, and to do that alone when his lover, Daniel just can't hack the pressure any longer. As the group of Dreamers fumbles through the ever-changing landscape of their lives, they begin to realize their partners aren't just a hand to hold, they are the glue. The foundation. Without them, a Dreamer can't hope to survive the insanity the Dreams engender.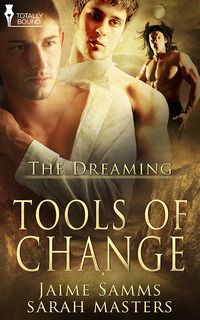 Blurb for Tools of Change:
Just when they thought the nightmares couldn't get worse, they realized they weren't sleeping.
Barry and Tag hoped that even with Barry's Dreams still keeping them on the hunt for murderous criminals, they might find some peace in their new home together. The rest of the Team has their backs and they all have their assigned roles—whether they like it or not—so it should be easy.
With Tag away on business and newest Team member, Jason, emotionally shattered after his break up with long-time lover Daniel, they soon find that if the wicked don't rest, neither do those tasked with bringing them to justice. When the Dreams start to go on the fritz and Jason seeks out the company of a vicious and sinister Dom named Karrick, it seems all hell is about to break loose.
It will be up to the Team to sort out friend from foe on their own. The veterans of The Dreaming are forced to follow and their untried partners are thrust into the lead. They will have to learn how to get along, and how to use their talents without otherworldly help if they hope to stay alive long enough to figure out what's going on.
Reader Advisory: This book contains scenes of hot wax play, BDSM, dubious consent to BDSM play, and graphic descriptions of torture and murder victims.
Publisher's Note: This book is best read in sequence as part of a series.
General Release Date: 30th June 2015