NR Walker talks to us about her journey so far!
Posted by Holly Gunner on 1st August 2015
Hi I'm NR Walker and I am Pride Publishing's Featured Author for August!
I'm so thrilled to be Pride Publishing's featured author for August!
It's an exciting time to be with Totally Entwined as they branch out with their new LGBTQ press, Pride Publishing, and as they become a part of the Bonnier Group family!
How did I get here? Well, funny you should ask…
Back in 2012, I had written and published by first books with a publisher that was not Totally Bound (Pride Publishing).
Point of No Return was doing well, and Taxes and TARDIS was a cute little novella that everyone seemed to adore. So I wrote some more, and Breaking Point followed Point of No Return onto the Best Seller's lists and Three's Company had exceeded my expectations.
Unfortunately, the publisher failed miserably.
When I finally got the rights back to my books, I wanted to give them a home that was safe and had a reputation for all the right reasons, not like the publisher I had just left.
"Check out Totally Bound" someone told me. So I did.
And that week, I submitted five books to them. And soon after, I submitted another three.
That was over two years ago now, and even as the contract renewal for these books came and went, I've gladly decided my books should stay with Totally Entwined. Each book is getting new covers and five out of the eight will have additional content.
And these last two years have seen me go from being someone who worked full-time and wrote fiction at midnight, getting by on little-to-no sleep, to now being able to write full time.
It's been a hard, hard road, but it is achievable. And it is soooo worth it. I have my author brand, which I hope people recognise as an author who likes to give back, who participates with her readers because she wants to, and who is always willing to help when she can. And of course, I hope readers see my brand, my name and that funky blue stripy heart, and think "Hell yes, that's a book I want to read."
Which brings me to my new additional content in five out of eight of my Pride Publishing books!!
With a short new small chapter in Elements of Retrofit, Clarity of Lines, Sense of Place, Three's Company, and Taxes and TARDIS, I'm really hoping people will want to see what these characters have been up to.
Thanks so much for Pride Publishing for having me on their blog! It's an honour and a privilege.
Much love, and happy reading!
N.R. Walker
About NR Walker: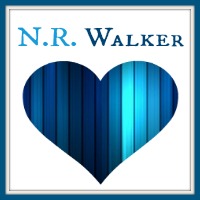 N.R. Walker is an Australian author, who loves her genre of gay romance. She loves writing and spends far too much time doing it, but wouldn't have it any other way.
She is many things; a mother, a wife, a sister, a writer. She has pretty, pretty boys who live in her head, who don't let her sleep at night unless she gives them life with words.
She likes it when they do dirty, dirty things...but likes it even more when they fall in love.
She used to think having people in her head talking to her was weird, until one day she happened across other writers who told her it was normal.
She's been writing ever since...