Senior Editor Sarah chooses Blind Ride by BA Tortuga
Posted by Charlotte Kirton on 6th July 2015

Editors Choice: Blind Ride by BA Tortuga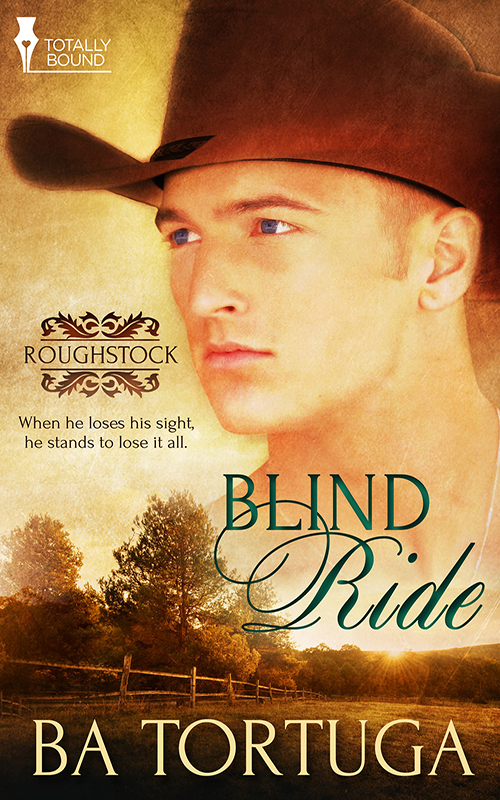 Blind Ride is the new gay Cowboy and Western release from BA Tortuga and is the first book in her Roughstock series.
Set in the heat of Texas, BA Tortuga's Blind Ride immerses us into a world full of strong, alpha male bull fighters who possess intense love and passion underneath their hard exteriors.
Follow the journey of Jason Scott, an avid bull fighter whose life takes an unexpected turn for the worse. Fall in love with best friend Bax and the others in Jason's community who come together to help heal deep emotional wounds.
A fantastic plot with great emotional depth and loveable characters, and let's not forget the heaps of steamy romance thrown in!
This is BA Tortuga's first release with Pride Publishing and we can't wait to see what else she has in store for us!
---
Editor Sarah summarises Blind Ride:
"Blind Ride is a heart-warming story that really highlights the importance of living each day to the full. BA Tortuga successfully made these strong, tough cowboys relatable to everyone – their emotion and passion for their home, lovers, friends and family remain at the forefront throughout.
BA's Texan roots shine through in every corner of the narrative; her strong ability to channel the local dialect and customs is evident with every page."
---
Blurb for Blind Ride:
Jason Scott has everything a bull rider wants—success, money and traveling partner Andy Baxter. When he loses his sight in an accident, he stands to lose it all.
Jason Scott is at the top of the bull riding game, on his way to a winning season. Along with his traveling partner, Andy Baxter, he's riding hard on the circuit, working around the country with all of the other bull riders and bullfighters, living the good life. The only thing he wishes he had is Bax, but he's afraid to take the step that would make them more than friends, worried that it will ruin everything.
When a terrible accident leaves Jason unable to see, his whole life goes south. Jason decides to chuck it all, determined to go home and hide at his momma's ranch. Bax has other ideas. He wants to make sure his best friend doesn't give up, and he hatches a plan that stuns Jason and makes their friends and family think he's crazy.
With the help of the other bull riders and a very persistent bull fighter named Coke, Bax convinces Jason to give life one more try. With Jason cautiously learning to hope, and his relationship with Bax going to the next level, life gets pretty complicated. Everyone gets in on the project, from Jason's strong-willed mother to an entire ranch full of children, all of them working to help Jason do what he loves.
Publisher's Note: This book was previously published elsewhere. It has been revised and re-edited for release with Totally Bound.
Series blurb:
When it comes to a professional bull riding league, BA Tortuga's Roughstock has it all—from the toughest cowboys to the bulls no one else can ride, from the stock contractors to the entertainment to the heroes of the arena, the bull fighters. These men work hard, play hard, and love even harder in a world that is getting smaller and smaller for their cowboy ways. Find out what happens when these men fall for each other in between falling off their bulls, trying to live in a modern world, and making the best ride of the season and winning it all.
Blind Ride by BA Tortuga is now available for early download.