Building Bonds exclusive
What can we expect from Building Bonds?
As the first book in the Kiss of Leather series, Building Bonds introduces several characters who will subsequently get their stories told in later books. The principle ones are the three Doms who are opening the premiere Kiss of Leather BDSM club located in West Hollywood, near Los Angeles. Building Bonds begins about six months prior to the club's opening and features Gavin, one of the Doms from the club and a shy carpenter who's been contracted to custom build Kiss of Leather's exclusive dungeon furniture. What Kyle doesn't realize is that despite his fear of anything related to the BDSM lifestyle, he's a natural sub.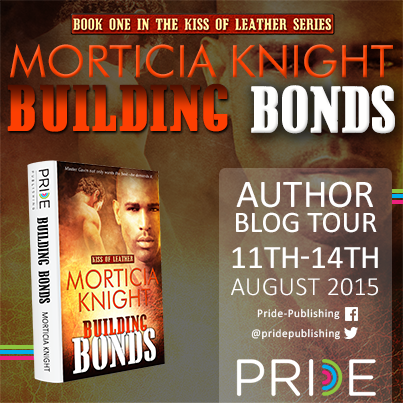 The Kiss of Leather series will be set around the BDSM club, Kiss of Leather. Why did you choose to make this location the central theme for the books?
Many BDSM series are set around a club that is a central point to the stories. I wanted to make my club a bit different by showing the foundations of it being built, the club's backstory if you will. I love BDSM stories set in clubs, but I like a bit of a twist. I did that with The Hampton Road Club, which is set in the 1920s and is my imagining of how modern BDSM protocol might've evolved. I also love LM Somerton's Edge series for that same reason. She takes the club setting, but incorporates The Edge locale as an additional component.
Kyle is a novice in the world of BDSM. Do you enjoy writing about characters embracing their own natural submissiveness?
I don't always write inexperienced subs, but they do turn up quite a bit! I love the big 'aha' moment in stories, whether reading or writing them. What's so much fun for me with a sub character who is clueless about what he needs, is the slow burn, the coaxing the Dom has to do in order to bring that out of the poor unsuspecting bottom. Then there's the payoff with that 'aha' moment when he finally submits.
Master Gavin is a stereotypical big, bad, scary Dom. Are these your favourite kinds of Doms to read about?
Yes. I love that a man who appears so tough and no nonsense can then melt around a beautiful sub. Although the subs in the stories typically go through major transformations, I like when the Dom does as well. There can be many reasons for that metamorphosis, but if there's no change in the characters, no growth, I find that boring.
You have many BDSM stories in your backlist. Building Bonds focuses on a D/s relationship in particular, is this your favourite part of BDSM to write about?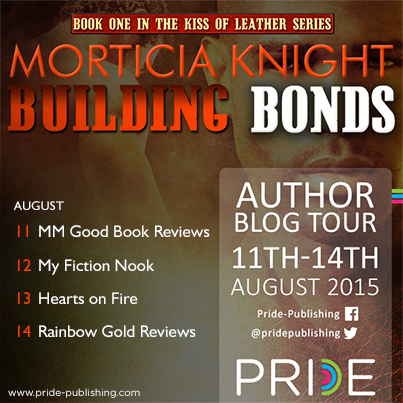 I surprised myself by discovering that to be true! The characters in my BDSM stories have a tendency to drift into that type of power exchange. I love exploring all the possibilities that such an all-encompassing relationship would entail. The trust between the two participants has to be enormous, and I find it incredibly beautiful when love enters the picture, and they experience an intensity of connection I don't think would be possible in a different dynamic.
What do you prefer writing, series or standalones?
Series. I find it very difficult to stop writing about a world I've created. That's been especially true with The Hampton Road Club series. I'd only ever meant for it to be three books, but the fourth came out recently, and I have three more, plus a free short, already sketched out. Part of it is the setting I chose. I had to invent a men's secret sadomasochism club set in the 1920s, and I went into great detail into what it looks like, the era – which required a ton of research. I also had to work very hard to keep modern BDSM terms out of the books, and then there were all the people needed to make such a secretive place function. Sure enough, I started imagining the other attendees stories and readers began to ask about them. So there you have it!
What can we expect from you next with Pride Publishing?
More Hampton Road and Kiss of Leather of course! But there'll also be Venetian Skies in the Aim High Air Force anthology, and Negotiating Love, Steve's story from the Sin City Uniform Series which will be coming out right after that. Hint: Steve's a very kinky man *wink*.
Like the sound of Building Bonds? Find out more about it by following Morticia's blog tour!