Jenna Byrnes on writing series
Posted by Charlotte Kirton on 21st October 2015

The Perils and Pleasures of Series Writing by Jenna Byrnes
I love reading and writing series books for one simple reason. When I finish a book, I find it hard to leave that world. If I can go directly into another book with the same setting, and touch base with familiar characters, it makes me very happy. I love checking back in with characters to see what they're up to now, and how their lives have changed since the first book ended. (Did they get married? Do they have children?) My preferred genre to read and write is gay romance, and these questions hold true for my guys as much as anyone. More and more we're hearing about gay men who've chosen to adopt or have kids through surrogates, and I've started exploring this touching development when writing my books. For me, those are truly the pleasures of writing a series.
Are there really perils? As an author who strives for accuracy, I'd give that question a definite 'yes' answer. I'm in the process of writing book ten in a twelve book series, Kansas City Heat. Characters from previous stories make appearances in each story, and I make sure to mention the hero of an upcoming book in at least one story prior.
The tricky part is keeping track of each character and what's already been written about him. I started a series 'bible' with book one and have added to it with each book I write. I keep track of the main character's name, age, hair and eye color, basic description, and any physical characteristics that are important. I also note what make and color of car he drives (this can change, but shouldn't flip flop.) Also, what family does this person have? Significant other, children (and their ages), parents (and their occupations), etc.
These characters might be mentioned casually in future books, they might have a meeting or a conversation with someone. It would be totally uncool to mention a guy as a blue-eyed blond when he was described as a beefy brunet in a previous book. Readers have been known to binge-read series they enjoy, and they'd be quick to catch a mistake like that. Personally, I believe a reader might put up with one or maybe two simple mistakes, but many more than that will have them questioning the author and the publishing house's credibility.
Secondary characters have a place in my bible, too. In my cop series, the Medical Examiner, the DA, the CSI tech and others are people we've seen in more than one book. I think the reader enjoys seeing these familiar faces, too, even if it's on a smaller scale.
And finally, lesser characters make the bible to avoid name repetition. If Joe White got murdered in book 1, I wouldn't want to use the same name as a waiter in book 2. It's a lot to keep track of but I enjoy it, and for me it's all part of the plotting process. I do love my series, and keeping good notes allows me to feel confident and I push forward into the next book.
---
Now Available from Pride Publishing: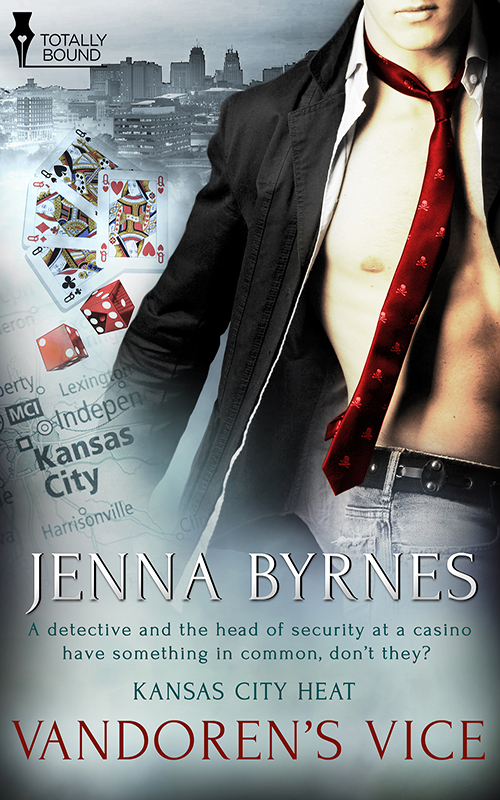 Book seven in the Kansas City Heat series
A detective and the head of security at a casino have something in common, don't they? Perhaps more than one thing.
Detective Mike VanDoren isn't much of a gambler, but the ongoing embezzlement at Kansas City's newest casino definitely has his interest. So does handsome Cole McKinney, the head of security at the Time and Tides. Mike dives headfirst into the case and a relationship with Cole, who can't believe that any of his trusted employees and friends could be guilty. Mike knows differently, and it's up to him and his team to figure out who's behind the elaborate scheme. When a casino employee turns up dead, the case takes a bizarre twist, leaving Mike scrambling to save the people he cares about most.
---
About the Author
Jenna Byrnes could use more cabinet space and more hours in a day. She'd fill the kitchen with gadgets her husband purchases off TV and let him cook for her to his heart's content. She'd breeze through the days adding hours of sleep, and more time for writing the hot, erotic romance she loves to read.
Jenna thinks everyone deserves a happy ending, and loves to provide as many of those as possible to her gay, lesbian and hetero characters. Her favorite quote, from a pro-gay billboard, is "Be careful who you hate. It may be someone you love."

Website: http://www.jennabyrnes.com/

Facebook: https://www.facebook.com/authorjennabyrnes
Totally Bound Author's Page: https://www.totallybound.com/author/jenna-byrnes