Kayleigh Sky talks to us about letting books go
Posted by Holly Gunner on 5th August 2015
Kayleigh Sky talks to us about publishing her first book, Backbone, and how it feels to draw your book to a close.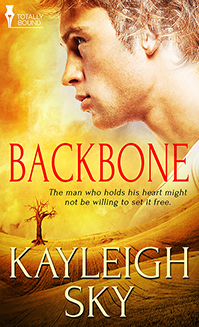 Goodbye, My Loves!
It took a couple of days after finishing the edits on Backbone and clicking on SEND before it really sank in that the book was done. At least the writing part of it. I wouldn't be living in Brey and Hank's world anymore. Surprisingly, that made me sad. I loved my guys. But, in another way, it was also somehow fitting for it to end as quietly as it had begun.
I had no notion that I would embark with Brey on his journey. I was working on a mainstream book, although I had begun to flirt with idea of—gasp!—being true to myself and writing an M/M erotic romance. But I wasn't there yet. Or, at least I didn't think I was. I didn't have a story in my head, anyway, and no idea of what was to come. But then one day I flashed on a picture that would become one of the first scenes in the book. An image of Brey—desperate, chained, naked. Just that. A flash. Then it was gone. I have to admit—I was startled. I was also instantly in love. I could tell that Brey was special. I wanted to know who he was. How did he get into this horrible situation? Who did it to him and why? Why was he alone? Where did he come from? And most important, who was going to save him?
Well, the man who was going to save him was Hank. Tortured by memory and the loss of his family, committed to doing the right thing in a world turned upside down, and crazily in love with Brey. I loved Brey for upsetting Hank's life and drawing him out into a murky landscape where his beliefs were not as sure as he had always thought them to be.
Backbone is my first erotic romance, but this genre is a natural way for me to express myself. For whatever reason, my daydreams of love always involve guys in love with other guys. The eroticism is natural and infuses my impressions of most things. I absolutely LOVE putting my guys in bed with each other. I love to show the power of sex to develop character and identity and courage. Brey's joyful sexuality was a form of daily celebration, an expression of life as meaningful to him as art. It sprang from his heart like a gift.
My path to this moment in time that sees Backbone being published has often seemed to be a crazy, dizzying series of switchbacks with sheer cliffs on either side. It has taken me a long time to get here. A place where I never actually saw myself being. Brey was a revelation of persistence I've learned to recognize in myself and wish for everyone else to possess. If it's your dream, never let it go. Brey's backbone stood him through torture, loss, and hopelessness. I really do wish a dream worth following for everybody, and hope that the joyousness of life and love, despite all the darkness that we have to face in our lives, comes out in Brey's story.
I am sad to let Backbone go, but I am hoping that it goes to people who will love Brey and Hank as much as I do, and stick with them all the way to their happy-ever-after. ENJOY!
Backbone blurb:
Struggling to survive in a deadly new world, Brey Jamieson soon discovers that the man who holds his heart might not be willing to set it free.
A universal vaccine eradicates all known viruses from the human population, but in the wake of this miracle, a deadly new virus suddenly surfaces. As the death toll rises, people riot in panic and civilization collapses.
Brey Jamieson, a convicted felon, is suddenly set loose in this violent new world. Desperate to reunite with his family, he sets out on a journey across the country but is captured by a brutal man who plans to sell him into slavery.
Hank Kresnak is a cop in the new world. It is his job to preserve the law. But when he sees Brey, his belief in everything he has built his new life on begins to crumble. Memories of a dark and terrible time reawaken. He was the cop who arrested Brey, and with one look into Brey's eyes, he knew his life would never be the same. He was a married man with two daughters, but he couldn't forget a man he barely even knew. Now his wife and daughters are gone, and he must struggle to save the man of his dreams from a nightmare fate.
Reader Advisory: This book contains scenes of violence and reference to rape.
General Release Date: 28th July 2015