Carol Lynne talks to us about being a Pride author!
Posted by Holly Gunner on 7th July 2015
Hi I'm Carol Lynne, and I am Pride Publishing's featured author for July!
With the recent news of the Bonnier Group buying Totally Entwined, I decided to take a look back at my years with the extraordinary people of Totally Bound publishing.
I'll start off with a little backstory. My first book was released February 21, 2007. I still consider that day Independence Day for me because it was the start of a new life. It gave me the self-confidence I desperately needed at the time, as well as the financial means to make the changes I needed to grow as a person and mother. When my second book was released in March, I somehow landed in a storm of nasty blog posts about what a horrible writer I was, and how I didn't deserve to consider myself an author. It crushed me. Since childhood, the men in my life worked to make me feel worthless. Writing was the first thing I'd ever attempted that actually made me feel good about myself. To have that glimmer of hope crushed by nasty bloggers devastated me to the point where I decided to stop writing, stop putting myself out there and stop hoping for a better life.
At my lowest point, Claire Siemaszkiewicz emailed me. She said she was opening a new publishing house, Total-e-Bound and would love me to submit a story. I'm not sure what it was about the tone of her email, but I suddenly saw a glimmer of light in my darkened world. I started with two series for TEB, Campus Cravings and the Good-time Boys, and I have been writing for them for over eight years. Over the years, Claire, and now Nicki, have become very special to me. They have gone beyond what any other publisher would do for an author, and I will never be able to thank them enough. So, when asked to write the first blog post for their new venture, Pride Publishing, I was absolutely thrilled because the addition of Pride Publishing in the Totally Entwined family tells me Claire and Bonnier believe GLBTQI fiction is here to stay.
I've had numerous conversations with Claire and Nicki over the years regarding their hopes and dreams for Totally Bound. Now, eight years after Totally Bound opened, all the staff's hard work is truly paying off. Although I'm sure they will continue to put in long hours to make Totally Entwined the best it can be, they now have a wealth of wisdom and connections to back them in the Bonnier Group. As an author, it's comforting to know that I will still be dealing with the same people who have helped me throughout the years.
My stories have always sold rather well in the United States, but the other markets have been a bit harder to break into. With the Bonnier Group's joining forces with Totally Entwined Group, I hope my books will be introduced to new audiences in Europe and around the world.
In my opinion, Totally Entwined isn't changing, merely growing into a bigger, stronger publishing house. So many publishers are trying to ride out the changing marketplace in hopes they can keep their virtual doors open, but Claire has never been the kind of woman to simply tread water. She has always had a vision and has focused her business decisions to not only stay afloat but to give authors the safety of a well-built boat that can carry them to shore once the storm is over.
I am proud to be an author for Totally Entwined, but I'm even prouder to be able to call the management and staff my friends.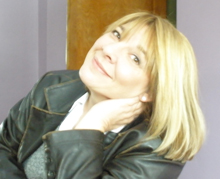 About Carol Lynne:
An avid reader for years, one day Carol Lynne decided to write her own brand of erotic romance. Carol juggles between being a full-time mother and a full-time writer. These days, you can usually find Carol either cleaning jelly out of the carpet or nestled in her favourite chair writing steamy love scenes.