Bulls and Blood Exclusive
What can we expect from Bulls and Blood?
You can expect cowboys and vampires. Also some shifters and demons. There's a little bit of every paranormal creature you can think of mixed in. It's about having to decide if breaking the rules is worth the trouble.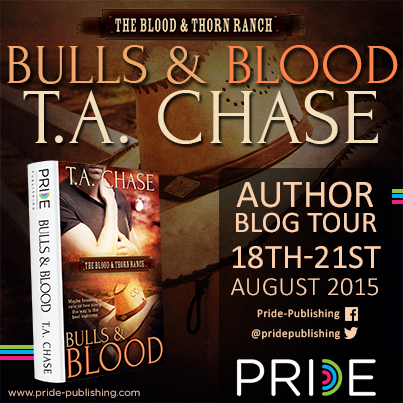 Tell us about the Blood and Thorn ranch! It sounds like a very interesting place?
The Blood and Thorn ranch is a 20,000 acre cattle ranch in Colorado. The six Thorn brothers own it. They're vampires and have a set of rules they live by to make sure everything runs properly. They have a cattle side and a hunt side.
The Thorns run guided hunts for wealthy vampires who want to relive their glory days of hunting down their prey. The only good thing is they don't allow their clients to kill their prey. So that's a good thing, I guess.
Wesley and Mino are so different. Do you enjoy exploring relationships which are out of the norm?
I do enjoy writing about different kinds of people falling in love. It's interesting to see how they relate to each other and what kind of compromises they come up with to make their relationships work. Sometimes it's harder than others, but that's the beauty of romance, there's always a happy ending.
The majority of your series with us have been contemporary, why have you chosen to begin a paranormal series?
The idea of mixing cowboys and vampires intrigued me. Then the tagline for the series hit me and I couldn't resist. In a paranormal universe, I can create it any way I want. There are no rules because unlike contemporary, it's not real. Lol I like letting my muse take me anywhere it wants.
The blurb begins with telling us what Rule Number Two is.. tell us, what's Rule Number One?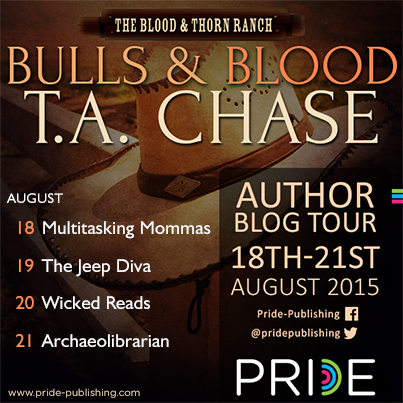 Ah…actually you will eventually learn what Rule Number One is. I don't want to give it away. It'll come up in one of the other books in the series.
What can we expect from you next with Pride Publishing?
Next up will be Climbing the Savage Mountain, my What's His Passion novel, featuring Toby and Jensen from Mountains to Climb. Also, Book Two of The Blood & Thorn Ranch, Bones and Blood will be out soon.
Like the sound of Bulls and Blood? Find out more by following TA's blog tour!