Happy Thanksgiving from the Totally Entwined Group!
Posted by Charlotte Kirton on 25th November 2015

Happy Thanksgiving to all our US readers, and everyone else celebrating around the world!
We've had a wonderful year so far at the Totally Entwined Group and have much to be thankful for. We've been lucky enough to expand and grow as a company, whilst upholding our core values and maintaining strong relationships with authors and customers. It's important to us to keep that personal touch!
In the spirit of feeling thankful, we asked authors and staff members to tell us what they are feeling thankful for this Thankgiving. What a lovely task this was! We hope this particular blog post makes you feel all warm inside, just as it did for us!
---
"I'm thankful for my amazing family that understands when I zone out while thinking about a story and for having a job I love that allows me to be creative and to live out an infinite number of lives and adventures!" - Kait Gamble, author.
"I am thankful for cups of tea and coffee. Also my family, laughter, my comfy bed, loyal friends and having the ability to travel around this beautiful planet! " - Charlotte Kirton, Marketing and PR Assistant.
"I am thankful for friends who know what to say and when." - Raven McAllan, author.
"I am thankful to live in a place where I'm not persecuted for reading or writing fanciful, romantic fiction. I'm also thankful to the editors who cut down my word count to manageable levels." - Elle Q. Sabine, author.
"I'm thankful for the creativity and willingness of our authors, who are willing to trust us with their manuscripts, and for Nicki, Rebecca, Sarah and the rest of the staff, who make me feel part of the family, even though I am across the pond." - Jamie, editor.
"I'm thankful for my family and friends and especially for those that have stayed after me to pursue my dreams because without those people, I would've never been confident enough to submit my writing to have it published." - Anise Storm, author.
smile emoticon
"I'm thankful for a my first ever pair of glasses from the opticians - I can see the screen again to write!" - Lily Harlem, author.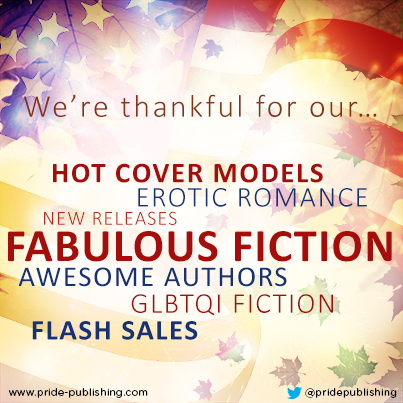 "I am so thankful for my family, friends, both online and in RL; the authors I work with; readers; my colleagues at TEG. I could go on and on." - S.A. Meade, author.
"I'm thankful for the people in my life who push me out of my comfort zone and help make everything an adventure." - Victoria Blisse, author.
"I am thankful that all my friends and family are happy and healthy and for all the kindness in the world. I'm also thankful that I work with such wonderful people! And Nutella." - Sophie Talbot, Publishing Administrator.
"Waking up, breathing, seeing the sunshine. Hugs, kisses, knowing I am loved. The joy of seeing my kids' faces, hearing their voices. Life." - Emmy Ellis, Head of Cover Art.
"I am thankful my son is healthy. I'm thankful that I have a publisher I love and wonderful readers. I am thankful for the wonderful romance community and the wonderful friends I've met through reading and writing." - Jambrea Jo Jones, author.
"I'm thankful for everyone who puts up with me and helps me. I have no idea what I would do without their understanding and patience!" - Alexa Milne, author.
"I'm thankful for family, the most important people in my life. Friends, those you see every day and those you don't see for months. Love, laughter and health. The list is endless… Oh and Ryan Gosling!" - Heidi Blakey, Marketing and PR Manager.
"Health, friends, family, my wonderful readers and all the characters bouncing around in my head." - LM Somerton, author.
"I'm thankful for having my PC back from the doctors. I am also thankful for good health, great friends/colleagues, a loving family and also wifi, beverages and red meat!" - Paul Ellis, Head of Art and Design
"I am thankful for my son, who never fails to make me giggle when I need it most. I am thankful for the vast amount of patience I have. And I'm eternally thankful for chocolate pecan pie." - Madison Night, author.
"I am thankful for the great people in the romance community who have been so generous with advice and encouragement. I am lucky to be working with an amazing publishing company—everyone I have worked with so far has been so incredible. I am thankful for good health and a wonderful family and the fact that my son has found a lovely girl to marry." - Rose C. Carole, author.
"I'm thankful for my dog, my bed and a job where I get to read lots of books!" - Sophie Lloyd, Marketing Assistant.
"I am thankful for Salukis and Siberians and Trader Joe's Chocolate Peanut Butter Cups." - Belinda McBride, author.
"For my wonderful husband and one very self-directed cat." - Leah Grant, author.
"I am thankful for my longsuffering wife, three beautiful daughters, Inky Snow, and the gift of writing. I am a blessed man." - Ken Newman, author (coming soon!)
"I am thankful for meeting Claire and Marek all those years ago. I have a job I love – the first time in my life where I am passionate about the job I do. I am also grateful to have my health back. My daughter makes me proud every single day – she is a wonderful human being." - Nicki Richards, TEG Publisher.
"Sunny days, even when it's cold. Swims in the sea. Funny Friends. Home-grown produce. Being able to listen to my nan's stories and having a good gossip. FAMILY. A warm house. Fluffy socks. Pyjamas. Pancakes for breakfast. My chocolate Labrador, DUSTY. Health. Youth. Vitality. The list could go on and on…" - Sarah Smeaton, Senior Editor.
"I'm thankful for a family who supports me 100%. My parents, husband, children and even my grandchildren have shown me how much they love me and I thank God every day for their love." - Faith, editor.
What are you thankful for this year? Wishing you all a happy and healthy Thanksgiving, full of love and laughter.
smile emoticon