Michael Mandrake tells us what inspired him to write On the Run
Posted by Charlotte Kirton on 16th January 2016

Inspiration for On the Run
Michael Mandrake
Greetings readers.
In my books, I usually don't go for the run of the mill, boy meets boy and they fall in love, tale. I prefer the kind where two men have to fight long and hard to obtain true happiness. In other words, I love to torture my characters.
*laughs*
I like to test them, push them to the limit, and hopefully they'll deliver a plot that advances the love story along the way.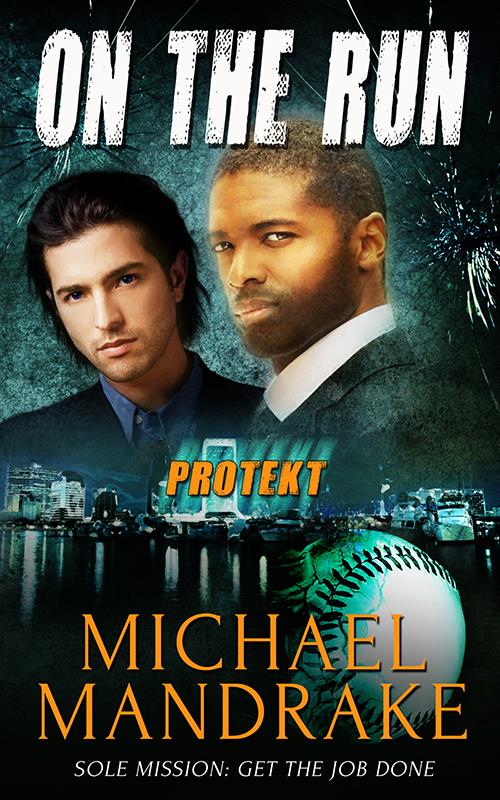 My first release with Pride Publishing is On the Run, the first book in the PROTEKT series. In this story, the characters are driven to one another by fear and attraction as well as the desire to live on the edge. Here, I wanted Aiden and Devlin to go through several problems before getting what they wanted. In all honesty, I wanted more, but sometimes the muses just win out and you have to give them what they want.
Sneaky little buggers, right?
They were, but their story was compelling enough for me to say fine, we'll let you have the romance. However, before they got what they ultimately wanted, let me fill you in on the inspiration for their book.
Months ago, I recall watching 60 Minutes, a news program with interviews and features on different stories and topics of interest. Since I'm a baseball fan, one story in particular caught my eye. It was a news report on performance enhancing drugs and one of the developers or distributors of them, Anthony Bosch. In the news story, Bosch claims to have injected Yankee's star Alex Rodriguez with the drugs. He spoke about being paid high sums of money and being threatened if he dared to come forward with the truth.
The moment I continued to listen, a story started to form. What if, I write a story based on that current event and turn it into a love story? I discussed things with my husband, took notes from the interview, and did more research. From there, I'd formulated a good enough plot for what I thought would be an interesting story. On the Run had legs, and months later, I wrote it.
In all truth, I haggled over whether the story was good enough. The beta readers loved it, fellow authors who'd read it thought the same thing, so I subbed, and here it is now, a published book. In that time of indecision, I wondered could this book be part of a series. A story I call Closely Guarded had been written and never subbed, but it seemed to fit the theme of good guys and girls, doing the right thing, but only by their rules. Aiden and Devlin fit this group, so I decided to make all the books part of a collection of novels called PROTEKT.
The books will be able to be read as standalones, with their only connection being the main character in the next book, will be introduced in the previous. And it's brief, nothing major happening for them until they get their own story. For now, there are 3 books planned for PROTEKT, but you never know, there might be more.
*winks*
So, in closing, my inspiration was a story of interest and it turned into a plot heavy, exciting love story with run and chase, suspense, and baseball. More than just a romance, it's a story I hope will drive home the point; the things people go through for real love.
*smiles*

Michael Mandrake pens complex characters already comfortable with their sexuality. Through these, he builds worlds not centered on erotica but rather the mainstream plots we might encounter in everyday life through personal experiences or the media. To find out more please visit Michael Mandrake at Wordpress
Author Sharita Lira: In one word, crazy. Just crazy enough to have 3 4 different muses running around in her head, driving her to sheer exhaustion with new plot bunnies and complex characters.
In addition to being a computer geek and a metalhead, Sharita loves live music, reading, and perusing the net for sexy men to be her muses. She's also a founding member and contributor to the heavy metal ezine Fourteeng.net.
For more information, please visit http://www.thelitriad.com as well as her Facebook fanpage, The Literary Triad.
The Literary Triad - http://www.thelitriad.com/#!
Michael Mandrake – http://michaelmandrake.wordpress.com
Pinterest - http://www.pinterest.com/authorslira/
Instagram - http://instagram.com/sharitalira/
Ello - https://ello.co/srlmort71
Twitter - http://twitter.com/#!/rawiyamikembl
Facebook - http://www.facebook.com/TheLiteraryTriad
N'awlins Exotica page - https://www.facebook.com/TriadNola?fref=ts
Goodreads - Michael https://www.goodreads.com/author/show/4481075.Michael_Mandrake