AJ Llewellyn says if the desk fits..
Posted by Holly Gunner on 17th September 2015
AJ Llewellyn talks to Pride Publishing about how where you sit down to write can affect the finished product.
If the Desk Fits… by A.J. Llewellyn
Where do you write? Do you have a specific place where you work every day? Do you go to your favorite coffee house and people watch as you write? Do you have a huge home office? Do you have a tiny, poky desk shoved up against a corner somewhere? Do write at the kitchen table when everybody's gone to bed?
And, do you need to do anything special to make the words, and the love flow?
I'm a pretty disciplined person thanks to my many years as a journalist and can write anywhere. Sometimes, however, when I have deadlines and I am sitting at my desk I long for some visual inspiration and I don't just mean photos of naked men on my laptop.
I read a blog recently by an author who wrote an amusing account of how she wears different hats – literally – when she is at her desk working on different projects. She had photos of herself in a vintage fedora, for her mystery novels. She wore a floppy hat for a period romance set in the deep South, and a baseball hat for an article she was writing for a local newspaper. That's how she deals with desk boredom and peps things up for herself.
When I asked several writers what they do, one told me she lights candles and incense and must have a yellow flower on the windowsill. We writers are a superstitious bunch so I totally understood! Having said that, I never had a problem working at my desk, or any desk ever, until I started to travel, covering boxing fights. I ran into some problems then. One time I was sitting next to the man who got Evander Holyfield's half eaten ear on his keyboard as Mike Tyson spat it across the ring. I got blood on my screen, my notes, my hand, and um, all over my water bottle.
That made it a little hard to write, lemme tell you. I once got hit in the head over a bad referee call. The venue was the Mandalay Bay Hotel and Casino and the fight was a controversial one for the exquisite world champion, José Luis Castillo who clearly beat Floyd Mayweather, Jr. but lost a unanimous decision. The crowd went mad as I typed my ringside report. I got biffed by a flying chair but still managed to email my story to the magazine!
Thankfully, being a romance writer is a little gentler on the body (maybe not the mind, because I agonize over every word!) but still, variety is the spice of the writing life. I have a designated home office and feel lucky for it but when I travel sometimes, no, rarely in fact, something magical happens and where I park my arse inspires an entire novel.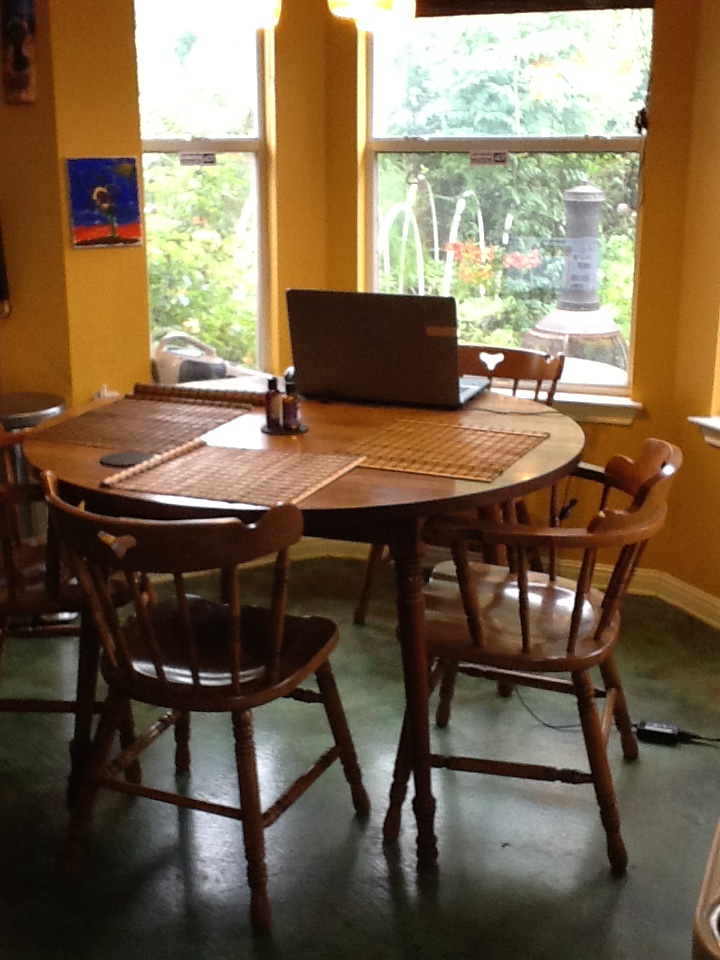 A few years ago I visited my best friend Tam at her new home in Austin. I had a fantastic time there and milked every moment for a book idea that came from my visit to the gay section of Austin (one half block). And so, The Bouncer was born. I pounded out that story in six feverish days sitting at her kitchen table. The table even features heavily in the story. I love when some books grab you like that and won't let go. Recently I got to update and expand The Bouncer for Pride Publishing.
Back I went to Austin and cleared the crayons, kiddie art, vitamins, dog food and other family stuff from Tam's kitchen table. The work flowed. And so did, wait for it, the beginnings of a sequel I am now finishing up, called Because the Night (named after the Bruce Springsteen/Patti Smith song).
The Bouncer has just been re-launched and I couldn't be happier. It's been out for a week and in my mind I go back to that kitchen table and I write whenever I want. Thank goodness for the mind and that fantastic thing called imagination.
I hope you check out the new version of The Bouncer. There's about fifteen thousand more words. More story, more love, more…bouncer!
Love,
A.J.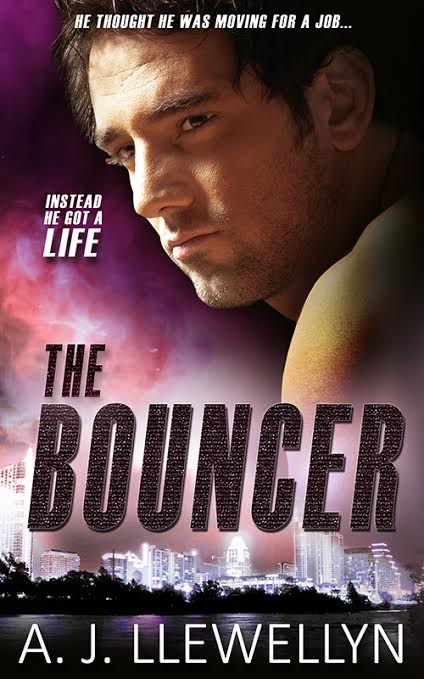 Blurb for The Bouncer:
Kevin Branigan thought he was moving to Austin, Texas, for a job. Instead, he got a life.
Kevin Branigan begins a new life in Austin, Texas, working as a bouncer at his brother's bar. A teacher by trade, he's had a hard time getting work and is still hurt over a catastrophic break-up. Doing something completely different seems like a great idea, and being close to his brother, Jack, and Jack's husband, Tito, is another benefit to his changed circumstances.
Things are looking up until Tito intervenes in a drunken fight at the bar one night. Tito stops a patron from beating up his girlfriend, but it could be very bad if news gets out that Tito, a retired boxer, slugged the guy. Kevin takes the fall, and winds up being arrested.
Sentenced to community service in a gay church, Kevin begins to think that the signs are all bad. However, late one night at the bar, he's seduced into a hot threesome with two of his co-workers. He finds himself drawn into this dangerous mix, as well as to a hunky undercover cop, Cruz Dixon. Unfortunately Cruz appears to have a boyfriend. Or does he? Can Kevin win over Cruz, who's captured his heart and his mind? Can he really make a life for himself in the World Capital of Music? Or are his days as Austin's newest bouncer numbered?
Reader Advisory: This books contains scenes of ménage a trois, ménage a quatre and voyeurism.
Publisher's Note: This book has previously been released by Totally Bound Publishing. It has been expanded, revised and re-edited for re-release with Pride Publishing.
Purchase Link: https://www.pride-publishing.com/book/the-bouncer
About AJ Llewellyn:
A.J. Llewellyn lives in California, but dreams of living in Hawaii. Frequent trips to all the islands, bags of Kona coffee in the fridge and a healthy collection of Hawaiian records keep this writer refueled.
A.J. never lacks inspiration for male/male erotic romances and on the rare occasions this happens, pursues other passions such as collecting books on Hawaiiana, surfing and spending time with friends and animal companions.
A.J. Llewellyn believes that love is a song best sung out loud.