Editor Jamie chooses The Second Sons by Elle Q. Sabine
Posted by Charlotte Kirton on 6th August 2015

Editor's Choice: The Second Sons by Elle Q. Sabine
This week's Editor's pick is bisexual historical novel, The Second Sons by Elle Q. Sabine.
Set in early 19th century England, this "compelling, addictive, and steamy tale" surrounds Lady Fiona de Rothesay and her path to pleasure with lovers Lord Oliver Morewell and Lord Alden Swenson. All three aristocratic characters defy the norms of society and commit themselves to an unconventional lifestyle. An interesting, gripping story with a side of hot sex and passion!
---
Here's what Editor Jamie has to say about The Second Sons: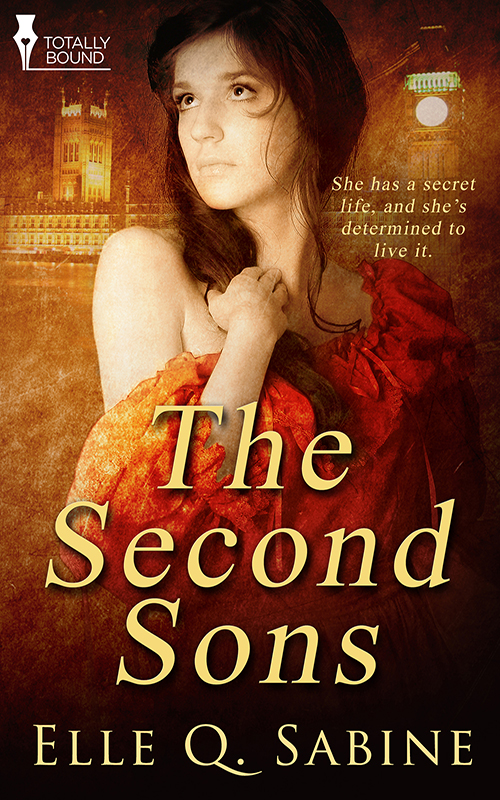 "The Second Sons explores a myriad of fantasies. What's not to like about two hot gentlemen--or maybe not so much gentlemen!--who love each other and have defied polite society to live and love the lifestyle they choose? Now, add that they've always wanted to share their love with a woman of their dreams, and when the spirited Lady Fiona enters the picture, complete with her own secret lifestyle, things get interesting very quickly and the sizzle becomes a raging boil. The Second Sons offers excitement, mystery, courtship, secrets, lies and some serious sexual antics. Who could ask for more?"
---
Blurb for The Second Sons:
Oliver and Alden quickly realise they want Lady Fiona de Rothesay, but she keeps a secret. Convincing her to trust them is going to be more difficult than they expected.
Lady Fiona de Rothesay isn't like her sisters, or even the typical academic bluestocking. She has a secret life, and she's determined to live it without interference, despite the overbearing supervision she unexpectedly acquires with the return of the Duke of Lennox's prodigal second son—and his lover.
Lord Oliver Morewell was perfectly happy living in Amsterdam with the love of his life. However, Lord Alden Swenson has been summoned to England for at least the next twenty years, and Oliver is committed to his lover. He also won't deny what his soul knows to be true. Alden is his past, present and future, but Fiona belongs there, too. Lord Alden can cope with the disapprobation of Oliver's family and the whispers of society, but Fiona is a complication he did not expect, despite the vivid fantasies he and Oliver have had about finding a woman to make their relationship complete.
Once Fiona is in residence, wild horses can't keep him away, despite her stubborn streak of independence and outright refusal to explain her mysterious absences, late night disappearances and male companions. Alden and Oliver will have to conquer Fiona's distrust, her secrets, but most of all her heart in their search for perfect, if unconventional, love.
Reader Advisory: This book includes scenes of M/M, M/F and MM/F interaction, spanking and light domination.
Publisher's Note: This book can be read as a standalone but contains characters from the Misbegotten Misses series also by Elle Q. Sabine.
Get your copy of The Second Sons here.