Editor Sue chooses Price of Freedom by Helena Maeve
Posted by Charlotte Kirton on 11th November 2015

Editor's Choice: Price of Freedom by Helena Maeve
This week's Editor's Pick is Price of Freedom, book two in Helena Maeve's Shadow Play series. Delve into the thrilling, dangerous world of espionage and enjoy some red-hot M/M romance along the way!
---
Here's what Editor Sue had to say about Price of Freedom:
"Helena nails the LeCarre vibe so beautifully. Her spies move through a darker, seedier world than James Bond's. There's no glamour here, no tuxedos or martinis. This is all rain-washed streets and dark alleys, drab hotels and dodgy bars. Her characters are deliciously stubborn and flawed. Ulysses is no exeception, he's seen better days but he's still keen to get to the bottom of a mystery. Robin is as big as enigma as you can get. The Price of Freedom is a great start to a fabulous series. All of the stories are are standalone, yet weave together seamlessly and cleverly. It's been a joy to edit the Shadow Play series because Helena has a knack of knitting words together in clever and unexpected ways. I love the shadowy, secret world she has created filled with very real and memorable characters."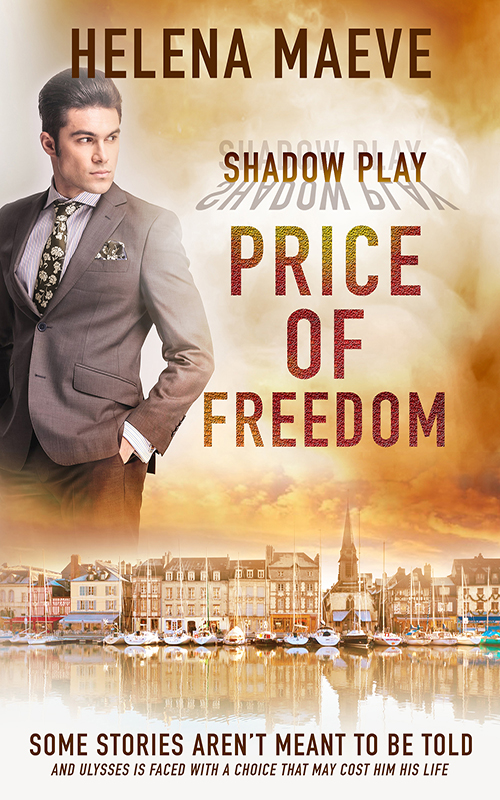 ---
Blurb for Price of Freedom:
Some stories just aren't meant to be told.
From warzones to domestic scandals, Ulysses has built a career as a high-profile journalist at the expense of both family and relationships. Now his dogged pursuit of the truth has cost him credibility and job security. Discredited and depressed, he hunts for the story that will re-establish him as a trustworthy name in British journalism.
Stumbling across a string of mysterious murders that spans the breadth of the continent may prove a godsend. Yet catapulted into a world of spies and outstanding blood debts, Ulysses finds himself collaborating with elusive Robin, a man on the run whose past is as dark as the desires he awakens in Ulysses. Their chemistry is incendiary, breathtaking, unlike anything Ulysses has ever known. And chances are the fallout will prove proportional.
As Robin's dealings land him in the crosshairs of the British intelligence services, Ulysses is faced with a choice that may cost him his life.
Shadow Play series blurb:
A Russian operative working to turn a British attaché sets in motion a chain reaction that pits spy against spy, making unlikely allies of sworn foes.
From Italy, to Russia, to South America, journalists threaten to pull back the veil on covert operations, retired hitmen surrender to the tender mercies of former lovers, and old flames threaten to raze each other's worlds to preserve the balance of power. For a man whittled to a blade, the only thing that matters is his target.
Caught in the filigree of this tangled web, one could find kinship, comfort, or wind up crushed under a boot—as spiders often are.
---
Get your copy of Price of Freedom here.
See more by Helena Maeve here.