Editor-in-Chief Rebecca chooses Don't Drink the Holy Water by Bailey Bradford!
Posted by Charlotte Kirton on 24th November 2015

Editor's Choice:
Our Pride Publishing Editor's Choice this week is Don't Drink the Holy Water by Bailey Bradford, as chosen by Editor-in-Chief Rebecca. Another hot, hilarious and superbly-written paranormal story to add to Bailey's already popular backlist. If you love reading about explosive chemistry between two men, strong family bonds, and hilarious and witty vampire scenes, this is the book for you!
Here's what Editor-in-Chief Rebecca has to say about Don't Drink the Holy Water:
"Don't Drink the Holy Water is a fast-paced, sweet addition to the Vamp for Me series. West and Axel are both characters who've had a pretty tough time, and their insecurities and self-doubts endear them to the reader, as does their growing love. Bailey writes characters you can't help but love, and their happy ever after in West's new coven is just what they deserve!"
---
Blurb for Don't Drink the Holy Water: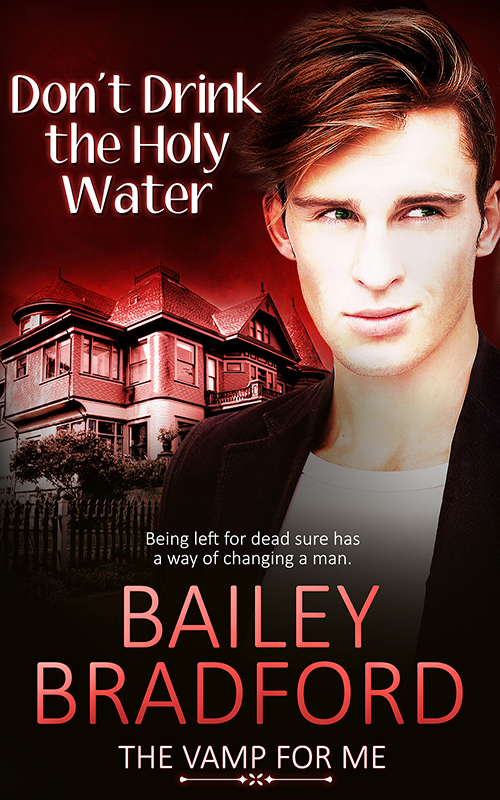 Being left for dead sure has a way of changing a man.
All West wanted was one night of fun. He'd taken on the responsibility of raising his younger siblings after their parents died, had done so out of love, but he was a young man and he just wanted a chance to live like one for a few hours.
It almost cost him his life. It certainly meant his life was changed forever, and along with his life, the lives of his siblings. They were all exposed to a secret world they'd never known existed. Vampires.
Human children living alongside vampires…seemed unusual. Claude, the coven leader who saved West and his brothers and sisters, doesn't have accommodations for kids. He finds one coven in the country that does, and sets about making a home there for West and his family. Before he sends West away, West meets an intriguing man, Axel, whom he encounters again months later. The attraction between them is strong, but there is more to consider than just how sexy Axel is.
Nothing in life is easy, whether you're a vampire or a human.
---
About Bailey Bradford:
A native Texan, Bailey spends her days spinning stories around in her head, which has contributed to more than one incident of tripping over her own feet. Evenings are reserved for pounding away at the keyboard, as are early morning hours. Sleep? Doesn't happen much. Writing is too much fun, and there are too many characters bouncing about, tapping on Bailey's brain demanding to be let out.
Caffeine and chocolate are permanent fixtures in Bailey's office and are never far from hand at any given time. Removing either of those necessities from Bailey's presence can result in what is known as A Very, Very Scary Bailey and is not advised under any circumstances.
---
Love the sound of Don't Drink the Holy Water? Get your copy of Don't Drink the Holy Water here.
Find more books by Bailey Bradford here.