Senior Editor Sarah chooses Constant by Megan Slayer
Posted by Charlotte Kirton on 25th July 2015

Editor's Choice: Constant by Megan Slayer
Choose this week's Editor's Choice, Constant by Megan Slayer, for a hot contemporary read surrounding the thrills of BDSM and the fast-paced nature of news broadcasting.
Follow the journey of Roddy Green and Andrew Vegas as they take their relationship from professional to personal and find the ultimate D/s dynamic as a result. If you're looking for a short M/M BDSM book with "lots of love and passion thrown in", choose Constant!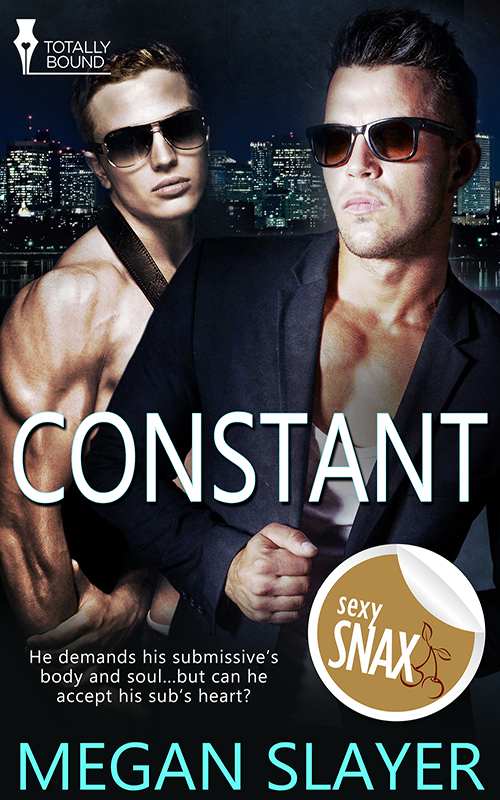 ---
Here's what Senior Editor Sarah has to say about Constant:
"This is a fantastic snippet both into the world of news broadcasting and BDSM lifestyle.
Roddy and Andrew are essentially two very different characters in terms of traits and their outlook on life, but I think in reality this is actually what draws them together. The course that their love travels is gripping and I found it fascinating how their insecurities are whole-heartedly laid bare to the reader by Megan Slayer. This is a real insight into how BDSM co-exists alongside everyday life for everyday people."
---
Blurb for Constant
He demands his submissive's body and soul…but can he accept his sub's heart?
Roddy Green never planned to fall in love and certainly not with his Dom, but every time he goes into Darkness, a fetish club, he falls for Vegas all over again. Being in love isn't the same as being loved in return. Vegas is there to do a job—not to build a romance. But what if the main constant in Roddy's life is also the one person he can't live without?
Andrew Vegas knows his job. He's a Dom. But there is more than one side to him and he's tired of keeping the other parts of him hidden. One man makes him feel safe and comfortable enough to open up—his pet, Roddy. But will Roddy, the producer of a local news broadcast, want to be with a man with secrets?
Reader Advisory: This book contains references to light knifeplay.
Publisher's Note: This book contains characters who also appear in Permanent.
Get your copy of Constant here.