Blind Ride Exclusive
What can we expect from Blind Ride?
A pair of bullriders who have loved each other from right up close for years. Lots of exciting rides! Some serious injuries. A cowboy conspiracy to get one of the best bullriders on tour to want to live again. Mostly I think Blind Ride is a good love story that goes more than a little western.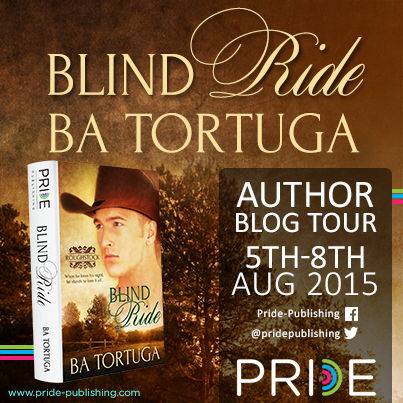 Why have you chosen to set this series around a professional bull riding league?
Believe it or not, I'm writing what I know in this case. One of my brothers rode bulls, I grew up in a ranch, and I've probably been to fifty or more professional bullriding events in the last ten years. I love the on the road culture of a rodeo cowboy, and how what they do defines them to the point where a serious injury can seem like the end of the world.
Jason is a successful bull rider! Did this prove an exciting career to write about?
I love all the parts of bullriding, from the big exciting rides to the minutiae, although I have to admit that it's more a calling than a career. They call it the toughest sport in the world, and I think it ranks right up there, for sure. These cowboys are stubborn, prideful, hot as heck, and full of grit. A lot of ritual goes into their preparations, too, so I have some neat quirks I can build into each character.
Your characters are both afraid to tell each other their real feelings. Do you think it is important to handle this issue in romance stories?
I think all romances have to have uncertainty about the relationship in order to maintain tension. More importantly, there's a truth here with Bax and Jason that begged to be explored. These aren't men who come easy to their feelings and the expression of those feelings is even harder.
The loss of Jason's sight is a difficult issue for the couple to overcome. Why did you choose to handle a traumatic incident?
A very famous doctor in an actual bull riding league always says that rodeo cowboys experience all the injuries of a major sport, such as football, but they also have all the concussive injuries typical of a car crash. Every bullrider I've ever met also says it's not if you get hurt, it's when. Those facts fascinate me, and I wanted to explore what might be a career ending injury and how a man would deal with that.
How did you get into writing erotic romance?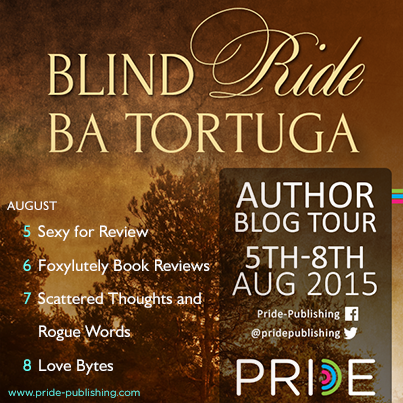 I was dragged into it. (grins) Early in the internet age I got into writing and reading online literary fiction and horror, and my best friend Sean Michael pulled me into erotic romance. Then my wife came along, and she joined us as a critique partner, and the three of us have been making a career of it for a very long time.
What can we expect from you next with Pride Publishing?
And a Smile is the second book in the Roughstock universe, and it features bullfighter Coke, who we meet in Blind Ride. He hooks up with the rodeo clown!
Like the sound of Blind Ride? You can find out more by following BA's blog tour!